A fresh, new carpet brings a touch of warmth to the home and with our vast range of carpets, vinyls and rugs on display, there is something to suit every taste and budget. Visit our showroom where you will find displays from established manufacturers such as Brintons, Axminster, Westex, Victoria, Brockway, Crucial Trading, Associated Weavers and many other household names.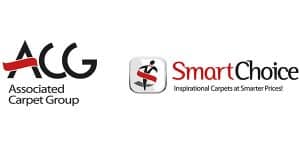 SmartChoice carpets, the own label range of carpets from the Associated Carpet Group (ACG), are available exclusively from independent carpet retailers who are members of ACG.
Corinium Carpets are proud to be part of a strong collective of over 300 nationwide independent carpet stores where ACG are able to negotiate exceptional buying prices from the leading manufacturers. This enables us to purchase carpets at better prices and these savings are then passed on to you, the consumers!
With strong industry connections and group buying power coming together to provide our customers with the best carpet and flooring ranges at affordable prices, you won't find these carpets on the high street or the internet! Follow the Smarter Carpets link to browse the exclusive ranges today!
Carpet Installation
Allow our experienced carpet fitters to handle your carpet installation. Once you've chosen your desired flooring our team can arrange for your carpet to be delivered and installed by one of our professional carpet fitters in Cheltenham.
Fitting a carpet is a delicate craft. Our installation team will minimise any remnants and wasted cut offs giving you the most value for your budget. The Corinium Carpet Fitters are highly experienced in fitting carpets to all shape and size rooms so even if you have a unique space to fill, we can help!